Jodie Dawe - 30th Birthday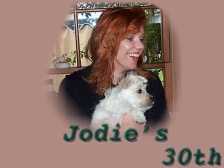 The following pictures were taken on Sunday April 9th at Joan and John's house in Stirling.
Most of them turned out alright (more or less). I've "enhanced" one or two of them to see what's salvageable where the picture is unrecognizable without intervention, but other than that I've left all the photos in the collection, warts and all (yes, even the pictures which are blurry, overexposed, underexposed or just plain stupid). I'll leave it for the reader to determine which ones are "good" and which ones aren't worth the download time.
My personal favourite is number 35, which must truly be seen to be believed.
Please click on a thumbnail to view the fullsize image.
thumbnail-001.gif
001

thumbnail-002.gif
002

thumbnail-003.gif
003

thumbnail-004.gif
004

thumbnail-005.gif
005

thumbnail-006.gif
006

thumbnail-007.gif
007

thumbnail-008.gif
008

thumbnail-009.gif
009

thumbnail-010.gif
010

thumbnail-011.gif
011

thumbnail-012.gif
012

thumbnail-013.gif
013

thumbnail-014.gif
014

thumbnail-015.gif
015

thumbnail-016.gif
016

thumbnail-017.gif
017

thumbnail-018.gif
018

thumbnail-019.gif
019

thumbnail-020.gif
020

thumbnail-021.gif
021

thumbnail-022.gif
022

thumbnail-023.gif
023

thumbnail-024.gif
024

thumbnail-025.gif
025

thumbnail-026.gif
026

thumbnail-027.gif
027

thumbnail-028.gif
028

thumbnail-029.gif
029

thumbnail-030.gif
030

thumbnail-031.gif
031

thumbnail-032.gif
032

thumbnail-033.gif
033

thumbnail-034.gif
034

thumbnail-035.gif
035

thumbnail-036.gif
036

thumbnail-037.gif
037

thumbnail-038.gif
038

thumbnail-039.gif
039

thumbnail-040.gif
040

thumbnail-041.gif
041

thumbnail-042.gif
042

thumbnail-043.gif
043

thumbnail-044.gif
044

thumbnail-045.gif
045

thumbnail-046.gif
046

thumbnail-047.gif
047

thumbnail-048.gif
048

thumbnail-049.gif
049

thumbnail-050.gif
050

thumbnail-051.gif
051
---
| | | | |
| --- | --- | --- | --- |
| | | | |
| Return to Mark's home page | W3C HTML Validator | CSS info | gPhoto home page |
---
index.html created on Mon Apr 10 00:22:46 2000 with gPhoto HTML Gallery plugin