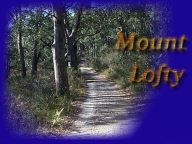 Hiking to Mount Lofty, 8 Apr 2000
Mount Lofty is situated about 15km East of Adelaide, South Australia. (look for the coffee cup in the map here -- Yes, there's a cafe at the top of the mountain, so the icon isn't completely gratuitous). There is a network of hiking trails through the National Park surrounding the area. In particular, the one we used starts at Waterfall Gully, 6km to the South-West, and runs steadily uphill, at grades in excess of 3:1, to the summit of the mountain. The walk takes between 50 minutes and 2 hours, depending on the fitness of the walkers.
Some of these images suffer from lens flare. Some of them aren't very sharp. Some of them were shot almost directly into the sun. Some have been over-exposed. And a couple have been cropped (so the subject matter has ended up looking closer than it really is, which gives the illusion that sharpness has been sacrificed).
I've left all the pictures from this session in, warts and all, because I'm still learning the ropes with the Digital Camera, and also because some of the "failures" provide some interesting visual effects
Please click on a thumbnail to view the fullsize image.
thumbnail-001.jpg
001

thumbnail-002.jpg
002

thumbnail-003.jpg
003

thumbnail-004.jpg
004

thumbnail-005.jpg
005

thumbnail-006.jpg
006

thumbnail-007.jpg
007

thumbnail-008.jpg
008

thumbnail-009.jpg
009

thumbnail-010.jpg
010

thumbnail-011.jpg
011

thumbnail-012.jpg
012

thumbnail-013.jpg
013

thumbnail-014.jpg
014